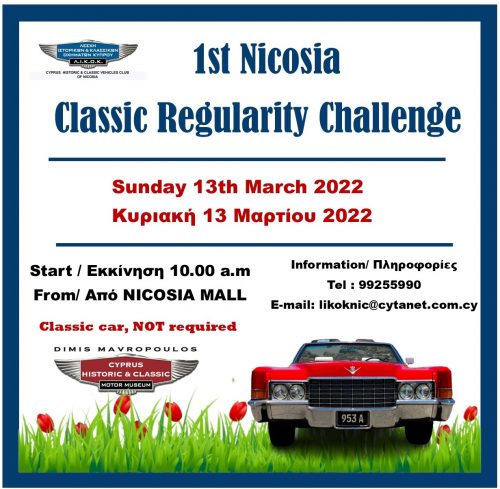 The first event of the 2022 1st NICOSIA CLASSIC REGULARITY CHALLENGE is approaching.
On Sunday 13th March 2022, L.I.K.O.K Nicosia, for the 1st year, will be organizing the 1st NICOSIA CLASSIC REGULARITY CHALLENGE.  The event marks the start of the three Challenges which will take place in 2022.
In addition to classic vehicles (over 25 years of age), non-classic vehicles (below 25 years of age) can take part to the event.
This year's start will be at THE NICOSIA MALL, 2 Madrid Street, 2306 Nicosia, Cyprus.
https://goo.gl/maps/jLQFthM2eykFXUvS8
The administrative check/ Secretarial : 08:00 am till 09:50am
The event starts: at 10:00 a.m. (10:01 a.m first car starts)
Finish of the event will be at: LYTHRODONTA Village
Road Books: will be ready and can be received by all the participants from Thursday, 10th March
Participation fee: The participation fee for all the members of LIKOK is € 60.00 and non members € 65.00 per crew (food & drink is included).
Entries close:  on Thursday, 10th March 2022 at 18:00pm.
For any further information or queries please contact the L.I.K.O.K. club Nicosia or by email: likoknic@cytanet.com.cy .
 +35799255990 (MARIOS KOUTSOULLIS) SECRETARY OF LIKOK CLUB NICOSIA
+35799012019(ANDREAS KOMODROMOS) MEMBER OF THE COMMITEE LIKOK CLUB NICOSIA
+35799620229 (GREGORIS KOUTSOULLIS) PRESIDENT OF LIKOK CLUB NICOSIA
After the form is filled up, please send to likoknic@cytanet.com.cy